We left our discussion determining that an air receiver for a load/unload rotary screw compressor system is best sized around 5-gal/cfm. Still staying in the compressor room for now, let's discuss how many air receivers are necessary and where to locate them.
Once again there is no clear right or wrong way of doing things. Some will recommend a single "wet" receiver and others will insist all receivers be placed on the "dry" side of air treatment. Both scenarios have advantages and disadvantages.
Let's review each and maybe interject a hybrid solution.
---
"Wet" Air Receiver
Advantages:
Provides excellent moisture separation
Allows cooling of compressed air
Disadvantages:
Potentially can over flow air treatment
Internal corrosion
Allows for proper operation of capacity control
---
"Dry" Air Receiver
Advantages:
Air treatment protection
Minimal internal corrosion
Supply of dry compressed air for large intermittent demands
Disadvantages:
Potential slugging air treatment with large quantities of liquids
Potential high inlet temperatures to air treatment
Pressure drop between tank and compressor capacity system
I am certain there are more than the ones I've mentioned.
---
If you have to choose…
In my opinion, if you only have room and money for one (1) tank, make it a "wet" tank with a good, reliable zero loss drain.
Another option is the hybrid solution, which uses more than one (1) air receiver.
---
The Hybrid Solution
This solution is gaining in popularity as knowledge of the efficiency advantages are becoming more commonplace. Installing both a "wet" and "dry" air receiver provides the best solution with only minimal disadvantages. You still size the system for a total of 5-gallons/cfm of the largest cycling rotary screw compressor. But now you split the air receiver sizing so 1/3 of the capacity is on the "wet" side and 2/3 is on the dry side.
The pictures below show a recent installation for one of our customers:
This particular customer already had multiple tanks – so we re-worked the system so they had a single "wet" receiver and three (3) "dry receivers.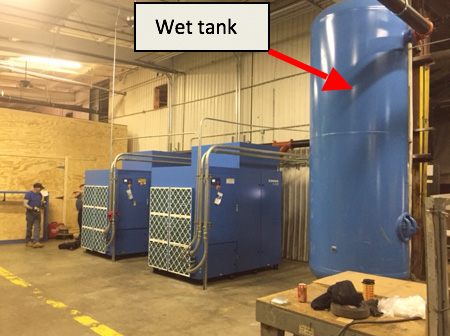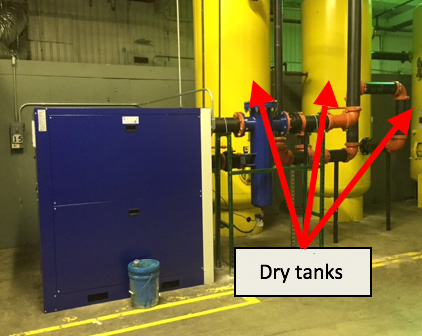 Every application is different, you need a qualified, experienced professional to review all the parameters of the system and recommend the best solution.
---
Atlantic Compressors is a full-service distributor, offering engineering services, and equipment sales and rentals. Our service department is fully staffed and trained to provide routine and emergency service on most makes and models of air compressor equipment.
Please contact us for a no obligation walk-through of your compressed air system by phone at (540) 728-1147 or by email at bill@atlanticcompressors.com.